USED FULLY TESTED 09121500977801/HOTPOINT WML 540 WASHING MACHINE CONTROL MODULE PCB(working)AQUARIUS
09121500977801 0912150097780109121500977801/HOTPOINT WML 540 WASHING MACHINE CONTROL MODULE PCB(working)AQUARIUSplease take note that due to staff shortages we will post 5 working days after payment is received this is for UK,NO EXCEPTIONS SORRY, POSTING OUTSIDE OF THE UK PLEASE READ DESCRIPTION BEFORE YOU COMMIT TO BUY FROM APPLIANCESPARE PARTS, please take NOTE UK POSTING ONLY,due to our heavy work load and staff illneses,WE POST 3-5 WORKING DAYS AFTER PAYMENT HAS BEEN RECEIVED,MON-FRIDAY NO POST SAT+SUNDAY,Please ensure all customs, duties and fees are paid by the recipient once the parcel has arrived in the destination country. Delivered Duty Unpaid (DDU) means that the recipient is responsible for paying the destination country's customs charges, duties, or taxes. Parcels will be held by customs until any outstanding payments are made. Any payments not received may result in parcel being returned, delayed or in some cases destroyed.we appliancespareparts will not take any responsibility,if your parcel is returned back to us because you have not paid custom taxes,we will refund you the part amount but not the postage costs,if you do not agree with these terms,please don't buy from us,thanks,
UPDATED IN FEB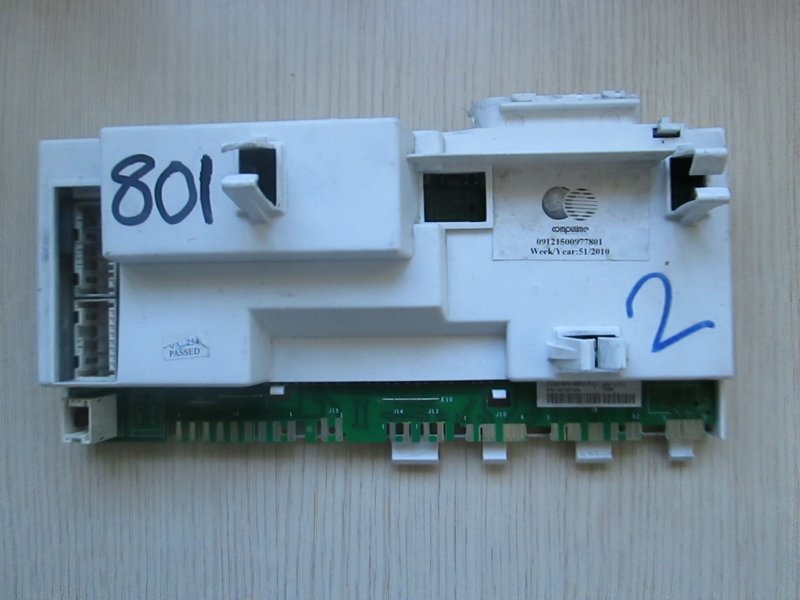 HOTPOINT WASHING MACHINE FRONT CONTROL BOARD
PULLED FROM A WORKING MACHINE
PLEASE MAKE SURE YOU BUY THE CORRECT PART FOR YOUR MACHINE
NO RETURNS ON THIS ITEM AS FULLY WORKING CONDITION
THIS WILL FIT A LOT MORE HOTPOINT WASHING MACHINE
or 1 in office back wall box on floor small pcb code 7801
this board has just completed a full test cycle
09121500977801
GENUINE USED SPARE PART
FULLY TESTED BEFORE REMOVAL
MAY BE SUITABLE FOR MORE MODELS
fully tested before removel
this is a genuine used spare part
THANK YOU
THANK YOU FOR VISITING MY AUCTIONS
products, used items, re-claimed and re-cycled to help our enviroment.
Many items come from workshop clearances, where they have been sitting unused in draws,or removed from salvaged machinery,washing machines, tumble dryers,fridges, freezers etc. too good to throw away; (where it would probably be melted down only to be remade into the same product all over again).Sold at sensible prices.....
GENUINE USED/RECONDITIONED
AS THIS IS A USED PART IT MAY SHOW SIGNS OF WEAR AND TEAR
SCRATCHES/SCUFF MARKS
Check Out My Feedback for confidence
Feel free to mail me with any questions you may have on this item.
Thanks for your interest.
FULLY TESTED BEFORE REMOVEL
WE REMOVE ALL OUR SPARE PARTS FROM DAMAGED SCREEN TV'S
WE STOCK 1000'S OF TV&APPLIANCE SPARE PARTS
WE DISMANTLE TV'S&HOUSEHOLD APPLIANCES EVERY DAY
IF YOUR PART IS NOT LISTED IT MAY BE THAT WE HAVE NOT LISTED IT YET
PLEASE SEND US YOUR PART NUMBERS THAT YOU REQUIRE AND WE WILL TRY OUR BEST TO HELP YOU IN ANYWAY TO GET YOUR TV UP AND RUNNING AGAIN
THANK YOU AND HAVE A GOOD DAY